Fraser Island Trip
14/10/2011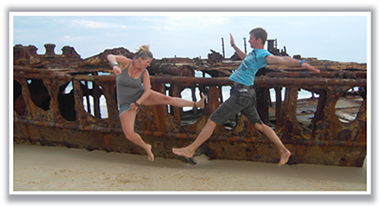 yeahhhaaaaa! that was fun ... driving a 4wd jeep along the beach! also got so much luck again with the weather and the group, too. 3 great days just camping in basic lifestyle and sand everywhere. wild animals, particularly dingos. staying now in noosa where we hopefully can get a surf lesson tommorrow ... 2nd try after agnes water where the weather was to bad! next stop is a really small place called mooloolaba where we will do a stand-up-paddel lesson and then going stright to brisbane! so, on my next entry we will be not even far away from sydney and the end of my east-coast-trip! but still now got 1 1/2 week left ... check the new pictures!!!
ich will sofort einen jeep haben und an allen straenden dieses landes entlang criusen :) es macht unglaublich viel spass und fuehlt sich so an als wuerde man auf eis oder schnee-match fahren ... echt geil :D
leider ist nicht mehr so viel zeit uebrig auf unserem gemeinsamen ost-kuesten trip. heute wurden schon alle hostels und busse gebucht fuer die letzten 1 1/2 wochen bis sydney! dort werden wir noch eine gute gemeinsame woche haben und dann werde ich rieke leider zum flughafen bringen muessen wo es fuer sie dann schon richtung bochum zurueck geht :( meine aktuellen plaene sehen dann noch schoene 2 monate in meiner geliebten stadt aus ... bevor es dann nach asien gehen wird ... aber wer weiss schon so genau was in 1 monat ist :D
pic of the day: jumping on fraser island
soundtrack of the day: foster and the people - pumped up kicks
Responses:
der kleine Sam says: Hi Junior, what do you exactly mean by "wer weiss schon, was in einem Monat ist"? Do I detect some conspiracy here??? Just let me put that straight: If you plan to stay abroad even longer than Feburary, than I will come and get you myself!!! If you plan to come home early: Yipppiiiiiiie!!!! ;-)))) It might be boring to the other readeres but still: I do misss you heaps!!!!!! Hope you are having fun - but looking at the pics there seems to be no doubt about that!!! :-))))) My beloved brother: Do take care and go on having fun!!! Please say hello to everyone I know!!!! Heaps of kisses and a huge hug: the one and only small Sam!!!